Environmental control with DynaVox communication devices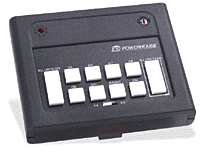 IRBLaster.info carries two great products for interfacing lighting control to the environmental controls integrated into DynaVox communications devices.

The IR543 (pictures) is available for $30 + shipping and allows one way infrared to X10 and Insteon (in X10 compatibility mode) bridging.


For more advanced DynaVox integration we offer the Applied Digital Ocelot controller available on our special order page for $200. The Ocelot has the following features:
› 2-way X10 compatibility, IR capability, and control of almost anything
› Control 256 X10 devices and execute up to 1024 IR commands
› Expandable with up to 128 expansion modules
› Features built-in RS-232 port for programming by a PC

Feel free to contact us if you need help designing a complete DynaVox environmental control system.
Link to this post:Environmental control with DynaVox communication devices