MythTV and two serial port IR Blasters
Tim used two of our serial RS232 IR Blasters in his MythTV build and decided to document the entie setup process. Check out his writeup here. Thanks Tim. We are glad you enjoyed our products.
Link to this post:Two Serial IR Blasters
Use an IR Blaster to trigger Picture and Picture
Jim in NJ sent us this IR blaster idea: Jim has several IP cameras throughout his house and a linux DVR machine near his TV. The linux machine is configured to montior the IP cameras using linux motion software. When motion is detected he configured the PC to output the desired camera full screen and send an IR command to the TV to display the PC video input in PiP. This same idea can be extended to other applications like baby monitors using sound detection as the input instead of motion. The system could also be implemented with insteon instead of a dedicated PC. Thanks Jim!
Link to this post:IR Blaster Picture in Picture
USB IR Blaster
We now have USB IR Blasters available based on Albert's FTDI Design. Support for these IR Blasters is currently available in the LIRC source tree and orders can be entered on our USB IR Blaster Order Page
Link to this post:USB IR Blaster
New Motorola Set Top Boxes - DCX3300 and DCX700
Motorola has two new set top boxes out with EXT IR IN ports. We have had a few customers use our Motorola Style IR Remote Input Cable with these boxes, but we need more beta testers. If you have a DCX3300 and DCX700 and would like to try our cable please contact us
Link to this post:New Motorola Set Top Boxes
Scientific Atlanata Exploer 940 (SA E940) IR Extender
Brent in Mississauga, Canada e-mailed me about obtaining an IR extender for his SA Explorer 940 set top box. The E940 uses the same pinouts as the standard Motorola Style IR Extender, but it uses a 56KHz IR Receiver instead of a standard 38KHz. We swapped out the IR head for Brent and shipped him a sample. Today, Brent reported he is successfully controlling his Scientific Atlanta STB behind closed doors with the help of our extender!
We're glad to here we were able to get Brent a solution for only $13 plus shipping and would be happy to share the solution with others as well. Just e-mail us if have an E940 box in need of an IR extender and we can swap out the head of our standard product for you as well.
Link to this post:SA Explorer 940 IR Extender
Control your set top box behind closed doors
We have solutions to control any set top box or other infrared equipment behind closed doors. It is possible to hide your catv, verizon fios, or satellite box in a cabinet or closet and still use your remote control for as little as $13. If you need help selecting the best solution for your application please e-mail mike@irblaster.info.
Link to this post:Control your set top box behind closed doors
Control your lights via your iPhone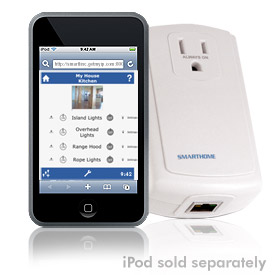 We've all seen the AT&T commercials where lights are controlled via the iPhone, but what they don't say is what app they are using.

The answer is the smartlinc. The smartlinc is an insteon enabled device that has a built in web server allowing control of insteon devices from any web browser including your iPhone.
The smartlinc is available for $130. As always,
insteon
orders from us ship free when ordering over $100 in merchandise and we are happy to create special bundle deals to save you even more money.
Please
contact
us to create a customized bundle for you!
Link to this post:Control your lights via your iPhone
Albert's FTDI IR Receiver/Transmitter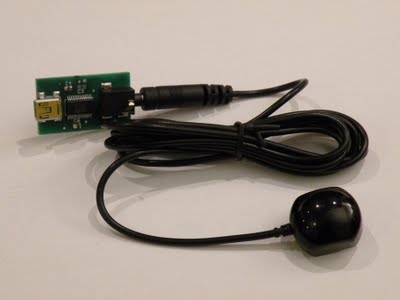 We found Albert Huitsing's page on how to make a homebrew IR receiver and transmitter using an FTDI MM232R prototype module and thought we had to give it a try ourselves. We were thinking this little module would be the perfect thing to interface our motorola style IR receivers and Tivo Style IR Transmitters to the USB port. To do this, all we would need to do is modify Albert's design to include the necessary 1/8" (3.5mm) jacks.

We decided to run this test by making a small board. This way, we figured we could make up a couple for only a bit more money and share the results with others. The board is pictures above with our 1/8" plug IR receiver cables plugged into it and it works great (notice the improved styling on the IR Receiver head as well).

Albert also has a patch on his website to allow for transmitting, but we haven't tried that yet. We did put an option to install another 1/8" jack on the back side for connection to our tivo style ir blaster. We'll post here when we get around to testing transmitters.

We did notice a couple items when testing the receiver so far that should be noted:
(1) In the lirc daemons/hw_ftdi.c we had to change the sample rate from 16 to 32. It seems our FTDI chips sample at double the rate as the ones Albert tested. We didn't see a spec in the datasheet showing the correct sample rate. We also had to compensate for the doubling of sample rate by halving the baud rate from 4800 to 2400.


(2) On computers with only a USB 1.1 port, mode2 worked, but irw did not. On all computers we tested with USB 2.0 ports both mode2 and irw worked as expected.

Click Here for Ordering Information
Link to this post:Albert's FTDI IR Receiver/Transmitter
Five foot extension cables for the motorola style ir extendenders are back in stock. With these extension cables you can place the IR receiver head up to 11 feet from your motorola cable box (even if the box is behind closed doors).
Link to this post:Extension cables are back in stock
Shaun in Miami reported the Motorola Style IR Receiver works on the PACE DC700X apache boxes. Thank's Shaun. Unfortunately we can't test every box so we welcome these types of comments.
Link to this post:Motorola Style IR Receiver works on Pace DC700X Apache
If you bought a Motorola Style IR Receiver from us in the past month you may have noticed an improvement to our design. We modified the housing and strain relief to make the product look even better. Here's one of the new designed receivers stuck to a plasma tv. Of course the old style still works great too. Some people even prefer the old style with the slightly smaller head.

For the foreseable future we'll be shipping this new style casing unless you note in your order you would like the older style. We hope you continue to enjoy using the "IR REMOTE INPUT" jacks on your motorola boxes!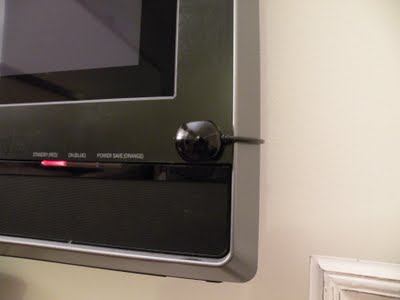 Link to this post:Upgraded Motorola Style IR Receiver
I just found this instructable article by Josh on how to build your own cheap multi functional camera controller. The basic idea is to use an SLR camera with an infrared (IR) controlled shutter along with a microcontroller. Josh wrote some software for the microcontroller to choose shutter trigger options via a simple push button menu and then fire off the camera at the appropriate time.

The infrared output is via an IR led. Personally, I would have used one of our tivo style ir blasters with 1/8" plug.

This also got me thinking of a great use for our RS232 IR Blaster and RS232 IR receiver. Using lirc or winlirc and a PC the same exact controller can be built to control your camera. Yes, you'll need to have the PC near the camera, but this may not be a problem for some of the shots Josh had intended to take with this rig. I also thing a PC based design can be made much faster and cheaper assuming the PC is already available.

Remember: If you make a unique setup like this using our parts and send us the details you can qualify for our food for your thoughts promotion.
Link to this post:Build your own cheap multi function camera controller
If you like our products please become a fan on facebook to share our site with your friends!
Link to this post:irblaster.info on facebook
motorola style ir receivers + light up ir blasters in stock
Both items are back in stock and ready for immediate shipment.
Link to this post:motorola style ir receivers + light up ir blasters in stock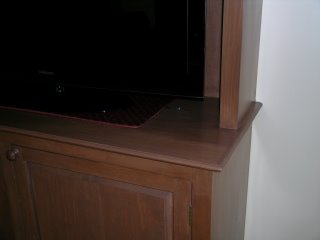 Link to this post:Motorola Remote IR Customer Picture
We now have cables to connect to the IR Remote Input jacks of Motorola cable boxes. Works great with the QIP 7100 and QIP 7216 used by verizon FiOS. Now you can control your box behind closed doors without an expensive IR distribution kit.

Link to this post:Motorola Style IR Remote Input Cables
We have a limited number of the light up RS232 IR Blasters back in stock. These are just like the regular RS232 blasters, but they have a clear head that lights up with both visible and infrared light on transmission. This makes setting up your system even easier!
Link to this post:Light Up IR Blasters back in stock
Extra IR Stuff - Leap Frog LF-IRX-RX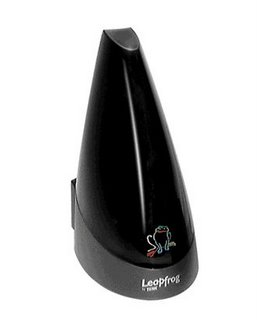 We somehow end up with many extra IR components sitting around our shop. These are one off items that are taking up space and we have to get rid of them. We could put them up on e-bay, but the e-bay and paypal fees are so much it's not even worth it. I decided I'll start posting the stuff here to to avoid those fees (essentially saving the buyer money) and keep this stuff out of our local landfill.

Today I have an extra Leap Frog add-on receiver for the LF-IRX system Model LF-IRX-RX. I don't think they make this thing anymore, but if you have the original system you can expand it with this extra receiver.

In the box:
(1) IR Receiver
(1) AC adapter
(1) IR Blaster (I don't even know why this is in there, but hey it would cost you an extra $6 to get one of these on the main page of this site)

$15 shipped with payment via google checkout. E-mail to make a deal.
Link to this post:Extra IR Stuff - Leap Frog LF-IRX-RX
Keypad Linc as Access Control Keypad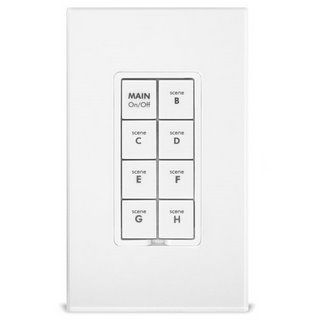 I would like to use an 8 button insteon keypad linc as the keypad for an access control system.

The Idea
You enter a 4 letter code on the keypad and the correct code sends an unlock signal to a door strike

The Implementation Plan
First, the supplies I'll need:

Insteon 8 Button Keylinc controller
Insteon I/O Linc Relay
Door Contact
Door Contact Power Supply
Insteon PLC Modem
Automation software or script
This is the easiest way I can think of to accomplish this. I'm open for suggestions on how to improve the system before I test it out.
First, I'll set each button to send a different X10 Unit OFF Code. There are several reasons I am choosing X10 for this. I won't have to link the keypad with the PLC modem, I can use an ocelot controller if so desired, the keypad linc won't be waiting for an ack, and the keypad linc LEDs will remain off during the button pushes.
On the controller end, I can simply look for the correct sequence of X10 codes. If I get an incorrect sequence or a timeout I'll go back to the start of my script. If the correct sequence is entered I can send the code to the I/O linc device controlling the door contact. The keypad itself can be linked to the I/O contact controller such that the on/off led on the keypad indicates the status of the lock.
This system can be improved such that each user has their own code and entry is logged.
Access time restrictions can also be easily added.
With 7 buttons and 4 letter codes we have a 1:2401 chance of someone guessing the code. A timeout between incorrect codes can be added to the script to decrease the chances of guessing.
Link to this post:Keypad Linc as Access Control Keypad
Food for your thoughts
We are looking for creative uses of the products found on this website. If you share your ideas with us and we decide to post them here we'll send you some yummy goodies as a thank you. Sorry, we can only ship yummy goodies within the USA.
Link to this post:Food for your thoughts
Insteon Project Ideas
I'm using this post as temporary storage of some ideas for insteon projects. Later, I'll create additional details of how to actually implement each idea. I would love to hear any ideas that irblaster.info users have as well to add to this list:



Install a new light switch in that pefect location even when you can't get a wire there.
Midnight Snack Button - add a button next to your bed to create a 10% light dim path from your bed to the refrigerator for a mid night snack
Guest Bathroom Mode - re-program off as a 10% dim so the bathroom light functions as a night light. Your guests can always find their way at night
Garage Door Monitor - have a keypad light control the garage door and also indicate the status of the door.
Turn off lights when nobody is around - interface to a motion sensor to make sure only occupied rooms are lit.
Control your drapes from an insteon keypad
Control your gas fireplace from an insteon keypad
Theme Park Usage - have a keypad button execute a macro that starts the show
Link to this post:Insteon Project Ideas
Eric Sorensen has some info on controlling an IR based train set. To do the job, he made his own IR Blaster and receiver and used his sound card to capture the waveform.

This sounds like a great project to re-create with the IR Blasters and receivers sold here! It would certainly take a lot less time to setup with lirc.
Link to this post:Automatic Christmas Train
Both cabled and standard IR Receivers are now back in stock and available for immediate shipment.
Link to this post:IR Receivers back in stock
If you like irblaster.info and facebook feel free to join our fan club!
Link to this post:Become a fan of irblaster.info
Individually control up to 2,048 Infrared Targets
We have had several customers ask us how to control a large number of identical infrared targets. The most common application seems to be set top box developers who want to test hundreds of boxes all closely stacked in the same room. We have also seen demand for this type of system in hotel/bar applications with a large number of TV decoder boxes feeding a single media server.

The solution we typically recommend for these applications is the ocelot controller coupled with 16 zone IR expansion modules. Once connected, each ir blaster can be individually controlled by sending a command using the CPUXA protocol via rs232 from a PC.

More details on these items can be found on our special order page. Please contact mike at irblaster dot info with your specific needs and we can put together a great package deal for you.
Link to this post:Individually control up to 2,048 Infrared Targets
Quad kits can now be used to control up to 8 infrade devices by upgrading the ir emitters to double headed light up units. The upgrade is available on both the RS232 (serial) version of the quad ir blaster kit and the in wall ir receiver version for $20. Just add the upgrade to your cart after you add the kit!
Link to this post:upgrade quad kits to octal kits
foobar2000 on a laptop
Jeremy in NY wrote me to say he was using the irblaster.info cabled RS232 ir receiver on his windows XP desktop to control foobar2000. Foobar has a winlirc client plugin that makes this possible and he was enjoying the setup, but wanted to also have it work on laptop. As is the case with most laptopsl these days, his did not have a serial port. The solution: a 16C550 compatable PCMCIA uart card from dealextreme for just $17.25 with free shipping. Jeremy is now able to enjoy foobar on both of his machines!

Do you have an irblaster.info story that you would like posted here? E-mail it to mike at irblaster dot info.
Link to this post:foobar2000 on a laptop
A while back I put a few notes on infrared blasters on wikipedia. Hopefully it will have some more details filled in by myself or some others in the near future.
Link to this post:IR Blaster on Wikipedia
I was googling for interesting uses of products from this website again and I came across a research paper on Measuring perceived video quality of MPEG enhancement by people with impaired vision. The paper mentions using our IR Receiver to allow participants to interact with a PC via remote control.
Thanks for the mention!
Link to this post:Research Paper with IRBlaster.info products
The double headed light up ir blasters with 1/8" plugs are back in stock, but on a very limited supply. They are currently available for $12 each. Single headed light up ir blasters are only available for large special order applications. (Note: We have plenty of the standard non light up variety on hand and ready to ship - just $6 for the 1/8" plug version)
Link to this post:Double Headed LU IR Blasters Back In Stock
Environmental control with DynaVox communication devices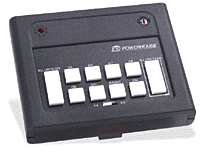 IRBLaster.info carries two great products for interfacing lighting control to the environmental controls integrated into DynaVox communications devices.

The IR543 (pictures) is available for $30 + shipping and allows one way infrared to X10 and Insteon (in X10 compatibility mode) bridging.


For more advanced DynaVox integration we offer the Applied Digital Ocelot controller available on our special order page for $200. The Ocelot has the following features:
› 2-way X10 compatibility, IR capability, and control of almost anything
› Control 256 X10 devices and execute up to 1024 IR commands
› Expandable with up to 128 expansion modules
› Features built-in RS-232 port for programming by a PC

Feel free to contact us if you need help designing a complete DynaVox environmental control system.
Link to this post:Environmental control with DynaVox communication devices
I found this interesting thread over on the SnapStream forums on using winlirc ir blasters with Snap Stream Beyond TV. Remember, I recommend the windows version of the ir blaster if you want the best compatibility with winlirc. Here is a direct shopping cart button for the windows version of the $12 RS232 IR blaster.





To summarize the procedure, Snap Steam Beyond TV can call an external channel change script by adding the a key to the registry. For example, this registry code causes SnapStream to call c:\winlirc\channel.cmd with an argument of the channel number on every channel change.

[HKEY_LOCAL_MACHINE\SOFTWARE\snapstream media\EXETunerPlugin]
"Executable"="C:\Winlirc\channel.cmd"
"Arguments"="%CHANNEL%"

This same post on the SnapStream forum also has some info on using winlirc and IREX for an ir receiver. The IR Receivers from irblaster.info work well on both windows and linux so you can use them with this method.
Link to this post:Using WinLIRC with SnapStream Beyond TV
There are several interesting posts over at mp3car.com on using irblaster.info products for car based computing. I recommend checking out this site if you are thinking of putting a pc in your vehicle.
Link to this post:irblaster.info products for car based computing
Do you need a replacement single or dual head ir blaster for your slingbox? Our tivo series of ir blasters with standard 1/8" mono plugs will do the trick! Consider the light up models for easier debug of your setup.
Link to this post:SlingBox IR Blaster
Why Insteon over X10?
X10, Insteon, UPP, and ZigBee can all perform similar lighting control tasks. Irblaster.info prefers insteon for several reasons outlined in the insteon product comparison application note. In summary, here is what the note has to say:

INSTEON: Moderately priced, highly reliable Dual-mesh RF & Powerline technology
UPB: Expensive single-band technology
X10: Inexpensive but lacks the robustness, flexibility and reliability required by home-control applications
ZigBee & Z-Wave: Single-band (RF-only) wireless networks that require a network controller
Here's a youtube video of some MythTV/Lighting control integration:


Link to this post:Why Insteon over X10?
Insteon IR Receiver
The new Insteon IR Receiver will be available starting mid February to link your insteon devices to a universal ir remote control. You could also use it to link your pc to your insteon devices using one of our ir blasters instead of using an insteon usb or serial bridge.

The MSRP of this device is $100. As always, I can give much better insteon pricing on bundles so feel free to e-mail me a list of insteon equipment to get a price quote.

Also of note, if you don't mind running your insteon devices in X10 compatibility mode the X10 IR-543 is available today for $30 and is in stock and ready to ship. I have used the IR-543 on several projects to allow control of insteon lighting from the logictech harmony series of remote controls. Just e-mail me to order an IR-543. US shipping is still just $3.95/order.

Thanks,
mike /at/ irblaster /do/t info
Link to this post:Insteon IR Receiver
I was contacted a few weeks ago by Jeff in California about my Hauppage PVR-250 replacement IR Receiver cable. Apparently, some folks on the pixel magic forums for the HD Media box MB100 and MB200 figured out that the IR Receiver input on the back of their HD Media boxes was the same as that of the Hauppauge PVR-250 cable. Only problem is the PVR-250 cable is a 3/32" plug and the HD media cable is a 1/8" plug. Adapters to convert are generally available at Radio Shack for this type of thing, but I had my wire shop build up something for Jeff pretty quickly to try out the theory and save some adapters. Jeff informed me the solution worked great so I'll be offering these cables for sale to the general public for the same price as the PVR-250 version ($10 + shipping). I'll add a cart button soon. In the mean time, you can just e-mail me at mike at irblaster dot info to order.
Link to this post:HD Mediabox IR Receiver
Latest Home Theater Installation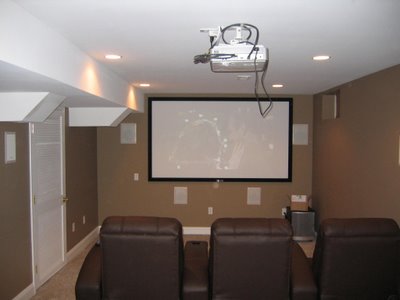 This picture is from the first test of our latest home theater installation.
This job used the following equipment available from irblaster.info:
6 Button Insteon Keypad
3 Insteon Dimmer modules
X-10 IR-543 IR Receiver
Plus the following equipment from other sources:
1 Pair JBL HTI-8 In Wall Speakers
3 Pair JBL HTI-6 In Wal Speakers
Onkyo TX-SR575 7.1 Channel Receiver
EliteScreens R100WH 100" 16:9 Screen
Benq W500 3LCD Projector
All audio, video, and lighting systems are controlled via a logitech 880 universal remote control
Link to this post:Latest Home Theater Installation
Dell XPS All In One
We have received reports that the standard tivo 1/8" plug IR Blasters work great with dell machines such as the XPS all in one that have standard ir blaster jacks.
Link to this post:Dell XPS All In One
Doug from the UK wrote in to tell me:

Thank you,
I ordered two ir blasters, one serial and one 3.2 mm mini plug and they arrived in the UK safely.
In your sales pitch you don't mention it, but the 1/8" plug "tivo" type
ir blasters work well when connected to the head phone jack of the Squeezebox and
configured with a plugin to the slimserver software on my headless linux
music server to control the volume/power of my amplifier.
The serial one will probably be used with a sat receiver when I get
around to it.
Regards,
Doug.
Link to this post:SqueezeBox
We have just added the ability to purchase extra in wall IR Receivers to go with the Quad IR Distribution kits. The extra receivers can be daisy chained to create advanced multi-room IR distribution setups. See these instructions for additional details.
Link to this post:Multi-Room IR Distribution Setup
New Cart, New Shipping Rates, & Google Checkout
irblaster.info now has a new cart system to allow combined orders at just $3.95/order shipping. International shipping is calculated at checkout and will average around $4.95/order. The new checkout system also allows you to complete your order with either paypal or google checkout. Please e-mail mike@irblaster.info if you have any problems with the new system.
Link to this post:New Cart, New Shipping Rates, & Google Checkout
Application note: Using the applied digital ocelot as an ir blaster, receiver, and lighting control instrument all in one simple unit.

The ocelot can be programmed to convert serial port commands to IR commands and X10 lighting control commands. Furthermore, the ocelot can be programmed to transfer received ir commands to serial commands.

Also, since the ocelot uses standard RS232 signalling it can be connected to the PC using a usb to serial adapter.

I will be adding sample code to help setup this system shortly.

The ocelot is available on the Special Order page for $199 and typically ships in less than 1 week. Custom programming is also available.
Link to this post:IR Blaster, IR Receiver, and Lighting control in one device
I'm working on a page to help visitors to this site pick the right product for their application. So far, I have info on the blasters, receivers, and some of the distribution kits on the ir help page. I'm planning on adding more info shortly. Please let me know if you have any suggestions.
Link to this post:Help picking the right product
The author of Linux Smart Homes for Dummies has a great website that lists every linux home automation project imaginable. There are plenty of ir blaster and receiver related projects on there that look very interesting.
Link to this post:Linux Home Automation
By Remote's HIP Program has a direct plugin for sending/receiving ir data through winlirc. The plugin can be found on their downloads page.
I have not tried this yet, but it definately looks interesting.
Link to this post:By Remote HIP Program and Win LIRC
MythTV Issues/Features I'm following
These are the MythTV issues/Features I'm most interested in right now:

MythTV Guide Data - Watching Schedules Direct for more info on their solution to this issue. Hopefully they will find a way to drop their pricing. Right now they are set at $15 / 3 months non-recurring. According to the FAQ they have a goal of $20/year.


MythTV Cable Card - Windows Media is going to support this - when will Myth?

Using MythTV with a firewire output from a cable box

Using a UPnP (universal Plug and Play) media box as a front end to play high definition content.
Link to this post:MythTV Issues/Features I'm following
Beta Testers Wanted
If you want to beta test a cabled IR Receiver + IR Blaster connected to a single DB9 please e-mail me at mike at irblaster dot info. So far I have had a few peple try them out with good success, but I want some more trials before I make this a generally available product. The cost of the unit is $30 + shipping. As always, if you are not satisfied you can return the device no questions asked (see the FAQ for more details on this policy).
Link to this post:Beta Testers Wanted
Other Projects I'm Interested In
Here's a list of some other things I find interesting. Some of these projects even go very well with IR Blasters and IR Receivers:

Free NAS - The Free NAS Server software project just release 0.684b which adds disk encryption with geli.

Mr. House - an open source home automation software.

Gallery - the open source web based photo album organizer

Mozy Online Backup - This is great software to back up your data on the web. You get 2GB storage free or unlimited storage for $5/month. Too bad it only works with Windows and MAC (no linux). On the free plan you also get an extra 250MB storage for every person you refer to the site which is why the URL here has a little tracking code on it. Many thanks to you if you use that code when signing up.
Link to this post:Other Projects I'm Interested In
Shipping to US and Canada now the same price
IR Blaster and IR Receiver shipments to the US and Canada are now the same price and customers from both countries may now use the buy it now buttons on.
Air mail to most other countries remains just $6/order for most items.
Contact me for additional details
Link to this post:Shipping to US and Canada now the same price
LIRC on a Router

Here is a rundown of the basic procedure and I'll fill in some more details in the near future.
Step 2: Open up the router and install an IR Blaster. You can see mine temporarily soldered onto the debug led in the picture. More details on this will be coming soon as this was the most tricky part of this operation. Of course, once I perfect all of this I will be happy to sell already modified routers.
libgcc also needs to be updated:

# ipkg update
# ipkg install libgcc

Copy your LIRC config file to /etc/lircd.conf and then Start LIRC:

insmod lirc_dev.o
insmod lirc_serial.o
lircd --device=/dev/lirc/0

Now you are ready to start transmitting. Next I need to work on getting a receiver to work and rsh so that the router can communicate ir commands with another machine on your netowrk.
Link to this post:LIRC on a Router
Need an IR Product marketed?
Do you have an infrared related product that you would like to sell on this site? Contact me with any and all proposals at mike at irblaster dot info.
Link to this post:Need an IR Product marketed?
Ocelot Now In Stock
Ocelot home automation controllers are now in stock and ready to be shipped. The cost is $199 each. These units feature the following features:
> 2-way X10 compatibility, IR capability, and control of almost anything
> Control 256 X10 devices and execute up to 1024 IR commands
> Expandable with up to 128 expansion modules
> Features built-in RS-232 port for programming by a PC
There are also several expension modules available including a 16 Zone IR Module.
Check back here soon for example applications.

Link to this post:Ocelot Now In Stock